TÜRKİYE'S FIRST VOCATIONAL AND TECHNICAL ANATOLIAN HIGH SCHOOL IN THE FIELD OF GASTRONOMY OPENED IN CAPPADOCIA
Being Türkiye's first school to provide gastronomy education Cappadocia Gastronomy Vocational and Technical Anatolian High School was opened with a ceremony attended by Minister of National Education Mahmut Özer.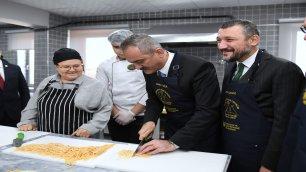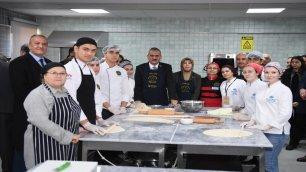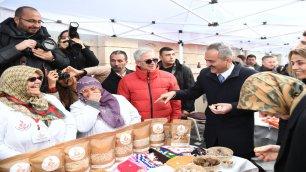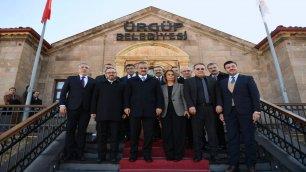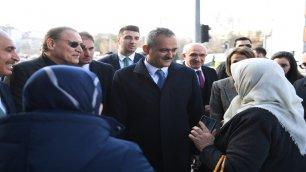 Stating that he is glad to open Türkiye's first gastronomy vocational and technical Anatolian high school in Nevşehir, Minister of National Education Mahmut Özer said that vocational education, which was thrown into disarray by the coefficient regulation during the 28 February process, has risen from the ashes powerfully. Noting that the coefficient regulation alienates academically successful students from vocational education, deepens the gap in success between schools and renders the human resources needed by the labor market unable to be trained, Özer stated that after the abolition of the regulation in 2012, all national education ministers and bureaucrats have run very serious projects to vitalize vocational education.
Marking that vocational high schools have now turned into schools that have successful students, Özer said, "We have vocational high schools such as ASELSAN Vocational and Technical Anatolian High School, Technopark İstanbul Vocational and Technical Anatolian High School where the most successful students with top 1 percent success rate are educated. Hopefully Cappadocia Gastronomy Vocational and Technical Anatolian High School will take the most successful students from the top 1 percent success rate.
Pointing out that they have also increased the production capacity as part of circulating capital, Minister Özer said that they have reached a production of 2 billion liras. Emphasizing the importance of this growth on the development of students' manual skills, learning abilities by doing and employment after graduation, Minister Özer said, "It is also important because it is ensured that students and teachers receive a share equal to their contribution to production. We have distributed 100 million of the 2 billion income as a contribution to our students and 200 million to our teachers. Reminding that during the Covid-19 pandemic process, vocational high schools produced medical supplies such as masks and disinfectants, which were difficult to obtain in those days, Özer noted that by this means the epidemic was overcome much more easily. 
He went on to say, "We established R&D centers in vocational high schools because intellectual property is very critical for the development of countries. We opened 50 R&D centers for patent, utility model, brand, registration of design and commercial production in Külliye with the presence of our President Recep Tayyip Erdoğan. The number of products registered by the Ministry of National Education in the last 10 years was 2.9. Our goal was to register 7 thousand 500 products in 2022. We have registered 8 thousand 300 products before the end of 2022. 162 of these products have been commercialized. Vocational high schools are now exporting. "Very huge and powerful vocational education system that meets all the needs of the country has emerged from the wreck caused by that coefficient regulation and the February 28 process."
Noting that they have also strengthened the vocational training centers, which are critical to meet the needs of apprentices, journeymen and masters of small and medium-sized enterprises in Türkiye, Özer said, "We made a very significant change in the Vocational Education Law No. 3308 on 25 December 2021. At that time the number of apprentice - journeymen in Türkiye was 159 thousand. Our President has set a target to increase the number of apprentice- journeymen in Türkiye to 1 million by 2022. Today, there are 1 million 200 thousand apprentices and journeymen." 
Mentioning that they started a mobilization in the field of gastronomy, which opened the first vocational technical Anatolian high school, Özer said, "We have declared a Gastronomy mobilization to reveal the traditional Turkish cuisine related to gastronomy, to be actively used in re-consumption with innovative approaches, to take inventory and to record it, under the auspices of Emine Erdoğan. Accordingly, we started to establish academies in different provinces, and the first high school was opened in Nevşehir." 
Expressing his gratitude to everyone who contributed, Özer said that a management model will be built in which different units meet for a common goal together with the University of Cappadocia. Özer stated that besides education given in Cappadocia Vocational and Technical Anatolian High School, R&D studies related to gastronomy will also be carried out. Minister Özer concluded his speech with regards.
Minister of National Education Mahmut Özer's wife Nebahat Özer, Nevşehir Governor İnci Sezer Becel, Deputy Minister Sadri Şensoy, General Manager of Vocational and Technical Education Nazan Şener, Chancellor of Cappadocia University Prof. Dr. Hasan Ali Karasar, The Chancellor of Haci Bektas Veli University Prof. Dr. Semih Aktekin and guests attended the opening ceremony.
Meeting with citizens in Nevşehir
Minister of National Education Mahmut Özer visited Ürgüp Municipality after the opening of Cappadocia Vocational and Technical High School. Making examinations at the Directorate of Nevşehir National Education e-Exam and Assessment and Evaluation Center, Minister Özer visited the tradesmen and conversed with the citizens.
As part of the schedule Minister Özer visited Governor Becel in his office and signed the book of honor. Özer also visited Nevşehir Municipality and Hacı Bektaş Veli University.