MINISTER TEKİN ADDRESSED THE WORLD AT THE UNESCO GENERAL CONFERENCE
Minister of National Education Yusuf Tekin, who attended the 42nd General Conference of the United Nations Educational, Scientific and Cultural Organization (UNESCO) in France, called for an end to Israel's attacks on Gaza.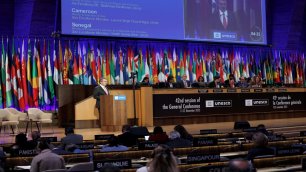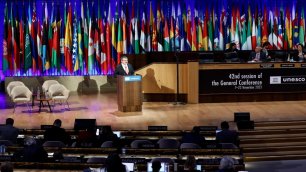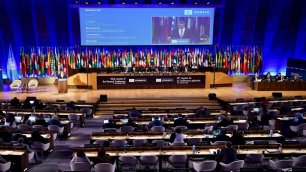 Minister of National Education Yusuf Tekin attended the "General Policy Discussions" sessions held within the framework of the 42nd General Conference of UNESCO, headquartered in Paris, the capital of France.
In his speech here, Tekin congratulated Romania's Permanent Representative to UNESCO, Ambassador Simona-Mirela Miculescu, who was elected as the president of the General Conference, and said that Türkiye is open to all kinds of cooperation during Miculescu's term of office.
Tekin noted that the fact that wars and conflicts are still being talked about in international platforms where targets are determined for the conscience of humanity in the name of building a just and prosperous future makes them worried, and said:
"The human tragedy in Gaza deeply hurts our country. We need to put an end to Israel's attacks on Gaza, which caused the death of many civilians and committed war crimes, to resolve the conflict peacefully, and to ensure that the region reaches an environment of peace and security as soon as possible. It is vital that conscience takes action."
Tekin stated that Türkiye has an active presence in humanitarian aid within the framework of its historical responsibilities and state traditions and continues to support those in need internationally. 
"We are aware that education is the fundamental element in ensuring international peace."
Stating that Türkiye has continued to provide aid in contact with international organizations since the first day of the attacks in Gaza, Tekin said, "We are aware that education is the fundamental element that adds value to the world, changes the world and ensures international peace."
Tekin noted that, as President Recep Tayyip Erdoğan emphasized at the United Nations (UN) 2022 Education Transformation Summit, all students should have access to a qualified, inclusive and fair education, regardless of age, gender, economic level, ethnicity, religion and region.
"As Türkiye, we have removed all the alienating elements from our curriculum within the scope of our efforts to establish world peace,"  Tekin said and invited the education ministers of all countries to work on this issue.
Minister Tekin explained that Türkiye's education policy is being built on skills development for life and development, climate change and environmental education, digital literacy skills development and teacher development.
Explaining that engineering subjects have been widely included in the curriculum within the framework of science, technology, engineering and mathematics education included in UNESCO's Global Education Monitoring Report, Tekin stated that Türkiye has now reached a level that can be set as an example to many world countries with its education infrastructure and system.
Minister Tekin stated that Türkiye has become one of the preferred countries in terms of international student mobility in recent years and that it provides scholarships to international students from many countries.
Stating that Türkiye, which is one of the founding members of UNESCO, is among the 20 countries that contribute the most to the regular budget, Tekin said, "Our country, which celebrates the 100th anniversary of the republic as of this year, is ready to support the activities carried out by UNESCO and to undertake new responsibilities in the coming period." he said.
Emphasizing that Türkiye is a rich country in terms of tangible and intangible cultural assets in the world, Tekin said, in this context, the 2023-2027 period, whose elections will be held on 22 November within the framework of the 24th Session of the General Assembly of the States Parties to the Convention on the World Cultural and Natural Heritage. He said he expected support for Türkiye 's candidacy to the World Heritage Committee.
Tekin also stated that the Supreme Court of Accounts, which has proven its competence in auditing and finance on international platforms, is a candidate for UNESCO External Auditor for the 2024-2029 period.
"Human and natural disasters occurring around the world show how important intervention mechanisms are in times of emergency and crisis." Tekin said that they experienced the importance of this closely as a result of the earthquake disasters centered in Kahramanmaraş in Türkiye on February 6.
Tekin said, "In this process, we have made great efforts to heal our wounds quickly and not to interrupt education, and we continue to do so." made his assessment.
The conference will continue until November 22.
Minister Tekin met with OECD Permanent Representative Alkin
After his speech, Minister Tekin met with OECD Permanent Representative, Ambassador Kerem Alkin. After the meeting, he and his delegation attended the dinner given in Alkin's honor.