MINISTER OZER MEETS WITH PRESIDENT OF THE TURKISH REPUBLIC OF NORTHERN CYPRUS (TRNC) ERSİN TATAR
Minister of National Education Mahmut Özer, who went to the Turkish Republic of Northern Cyprus to make official contacts, met with the President of the TRNC Ersin Tatar.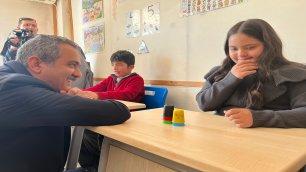 Minister of National Education Mahmut Özer met with President of the TRNC Ersin Tatar as part of his official contacts in TRNC. During the meeting, cooperation between the two countries on education was discussed.
Minister Özer talked about the ongoing cooperation on education between Türkiye and the TRNC and stated that the issues were discussed with the TRNC Education Minister Nazım Çavuşoğlu, who had come to Türkiye before. Stating that a preliminary study has been carried out on areas that can contribute to teacher training, preschool, vocational and special education, Özer noted that these studies will be completed.
Stating that they will hold a very comprehensive evaluation meeting at the Ministry on this subject, Minister Özer emphasized that Türkiye has an education system with 19 million students and 1.2 million teachers on a global scale which is much larger than the population of nearly one hundred and fifty countries. Emphasizing that the schooling rates at all levels of education have risen to over 95% with investments, Özer stated that they focused on preschool education in 2022, as it is important in terms of ensuring equality of opportunities in education, raising generations in a much more qualified way and using human capital more efficiently.
Expressing that they focused on strengthening pre-school education, strengthening vocational education and supporting the professional and personal development of teachers in 2022, Özer said that they put into effect very important changes in the Vocational Education Law No. 3038 dated December 25, 2021. Özer stated that the number of apprentices and journeymen increased from 159 thousand to 1 million 350 thousand in a year, thus meeting the qualified human needs of small and medium-sized enterprises.
Minister Özer stated at the meeting of OECD Education Ministers that President of France Emmanuel Macron's project to increase the number of apprentices to 1 million was unsuccessful as it remained at 800 thousand, although of 13 million euros budget was used. Özer explained that Türkiye has achieved significant gains with much lower budgets. He stressed that they enacted the Teaching Profession Law made significant progress on digitalization. He said that they are ready to support the TRNC by sharing all of these experiences that Türkiye has gained in education for the Turkish Republic of Northern Cyprus to be strong.
"The visit of you and your strong delegation is very important"
President of TRNC Ersin Tatar stated that he was pleased with the visit of Minister Özer and his delegation. He emphasized that the messages given during the visit with such a strong delegation and the support of Türkiye are very important in order to strengthen the national education in the TRNC and to carry the youth, children, national consciousness, customs, traditions and culture onward.
Stating that different factors are included in their agenda, Tatar emphasized that in this process, opportunities should be used efficiently, improved and carried onward.
Stating that the Turkish Cypriots continue to exist in these lands, Tatar said that Hasan Ilgaz, the name of the street where he grew up as a child, was one of the teachers sent here from Türkiye, and teachers were sent to TRNC during difficult days when the Great Leader Mustafa Kemal Atatürk stated that the Turkish Cypriots would never be alone. He emphasized that the support for national education has always continued. Stating that the support of national education, to implement and develop the issues mentioned in the meeting in the TRNC in the upcoming period is their biggest duties, Tatar said that with the understanding that youth is their future, their greatest desire is to keep the Turkish Republic of Northern Cyprus alive and to carry the TRNC further by raising the youth well.
"You are involved in important studies on strengthening vocational education"
Pointing to President Recep Tayyip Erdoğan's worldwide struggle for the sake of TRNC, Tatar mentioned Türkiye's efforts and initiatives for the TRNC as the TRNC was accepted as an observer to the Organization of Turkic States. Tatar explained that these developments are very significant in terms of raising conscious young generations who have received better education.
Talking on the developments related to vocational education, Tatar stated that the developments in tourism and industry have created the need for intermediate staff, revealing the importance of vocational education and that the Minister of National Education of Türkiye  Mahmut Özer is carrying out important studies. Expressing that they have the will they need, Tatar stated that they attach great importance to education at all levels in order to increase the value of Turkish Cypriots, and emphasized the TRNC's greatest strength is to benefit from the great potential and opportunities of the Republic of Türkiye. Tatar thanked Özer for his contributions and expressed his pleasure to Özer and his strong delegation.
Bureaucrats of the Ministry of National Education were present
During the visit, Deputy Minister of National Education Nazif Yılmaz and Chairman of the MEB Board of Education Cihad Demirli, Director General of European Union and Foreign Relations Hasan Ünsal, Education Counselor of TRNC Hızır Aktaş, TRNC Minister of National Education Nazım Çavuşoğlu and Ambassador of the Türkiye to Lefkosia. Metin Feyzioğlu accompanied Minister Özer.
Minister Özer met with students at the TRNC Nicosia Special Education Center
After meeting with President Ersin Tatar, Minister Mahmut Özer visited the Lefkosia Special Education Center and met with the students. Noting that they brought special education materials from Türkiye to the biggest special education school in the TRNC, Özer said that together with Minister Nazım Çavuşoğlu, they have decided to give all kinds of support regarding the equipment of the school and the richness of teaching materials.
Stating that as the Ministry of National Education of the Republic of Türkiye they will provide all logistical support to provide full-time education to the students of this school, Özer said that they will work for the children to have a great time and to develop their life skills. During the visit, Özer also asked the teachers working at the school about their needs, and took their demands for materials and a new building. In return, Özer instructed his team to renovate the school building.