MINISTER OF NATIONAL EDUCATION YUSUF TEKİN TAKES OVER THE MINISTRY OFFICE FROM MAHMUT ÖZER
Yusuf Tekin, who was appointed to the Ministry of National Education, took over the office from Mahmut Özer at the handover ceremony held at the Ministry.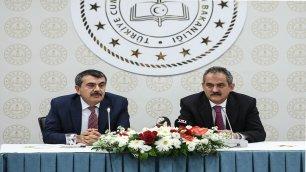 Minister of National Education Yusuf Tekin took over the office from Mahmut Özer in the handover ceremony held at the Ministry.
Stating that he was in the same hall for an emotional farewell about five years ago, Minister Tekin said that he was very happy to be together in this hall again with many of his friends with whom they parted way.
Emphasizing that the struggle for education in Türkiye is not only a struggle to be waged by ministry bureaucrats, Tekin said that it was very honorable to work and contribute on this issue from the outside. Expressing that he had said "we will meet again" while leaving the office, Tekin praised Allah for reuniting him with the Ministry. Thanking Mr. President for trusting him and deeming him worthy of this duty, Tekin underlined that he was able to take steps on education when he was Undersecretary, thanks to the support given by President Erdoğan both during his prime ministry and presidency. Minister Tekin stated that they will do very good work with the support of Mr. President from now on.
Pointing out that a lot has changed in Türkiye since 2018, Minister Tekin stated that many paradigms have changed both in politics and bureaucracy, especially after the 2023 elections. Expressing that they claim that the next century will be the 'Century of Türkiye', Tekin underlined that if they are sincere in their claims and want to be successful, the place where "The Century of Türkiye" will be built is undoubtedly the Ministry of National Education and the national education system. Stating that there are teachers, administrators, administrative personnel, private education institutions, other ministries and the Education and Training Policy Board in the central administration in the Ministry aiming to realize this goal, Tekin promised that they will fight together to bring the national education system to the well-deserved place.
Stating that they have made a commitment to the nation that they will continue this determination by working 24/7, Tekin noted that they will fight to the end for whatever it takes with sparing no sacrifices.
Thanking those who have been working in the Ministry since 2018, Minister Tekin stated that they wanted to carry the flag that they had taken from them today. Tekin said that he hoped they would see a better Türkiye and education system together.
"We worked day and night to improve the quality of our education system"
Transferring his office to Yusuf Tekin, Mahmut Özer expressed his sincere gratitude to President Recep Tayyip Erdoğan for assigning him for the administration of education which is the most important matter of the country.
Expressing that they are working day and night to improve the quality of the education system with all of his colleagues, Özer said that today they will hand over this task to the esteemed Yusuf Tekin.  Özer thanked his colleagues, deputy ministers, director generals and heads of departments, provincial directors, school principals, all teachers and administrative staff for walking together.
Özer specially thanked Sadri Şensoy, who worked with him day and night and took his burden, as well as Petek Aşkar, a beautiful person who made efforts to improve education despite all the difficulties.
Expressing that his family made the biggest sacrifice in this process, Özer thanked his wife, Nebahat Özer, who he described as the most valuable asset of his life, his precious companion, by stating they overcame all the difficulties together. Özer thanked his children, who showed patience in becoming distanced.
Satatşng that his only prayer when he took the office was "to be able to leave as he entered" and to work for the improvement of the education system in a principled, honest, transparent way, Özer praised Allah for accepting his prayer.
Mahmut Özer congratulated Yusuf Tekin for his ministerial duty and wished him success.