750 DISABLED TEACHERS APPOINTED ON THE INTERNATIONAL DAY OF DISABLED PERSONS
"Appointment of Disabled Teachers and Barrier Free Vision 2030 Introduction Meeting" was held on the December 3, the International Day of Disabled Persons with the participation of President Recep Tayyip Erdoğan, Minister of National Education Mahmut Özer and Minister of Family and Social Services Derya Yanık.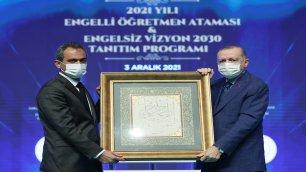 President Recep Tayyip Erdoğan sent his regards and respects to all people with disabilities during his speech at the "Appointment of Disabled Teachers and Barrier Free Vision 2030 Introduction Meeting" which was held on the occasion of the December 3, the International Day of Disabled Persons at Haliç Congress Center.
"We will continue to support our disabled teachers"
Expressing his happiness to make the appointments of 750 disabled teachers on this special day, Erdoğan stated, "I wish success to disabled teachers in their new duties. Today, total number of disabled teachers appointed since 2002 when we came to power reached 63 thousand and 87. Did you recall the number of disabled teachers working in state schools in 2002? It was 5 thousand and 777."
Erdoğan said that they will continue to support disabled teachers whenever they need assistance during their career and reminded that he previously shared the good news that the Teachers' Profession Law will be presented to the Parliament for its approval shortly.
"The new law draft is the most innovative overall professional act in the history of our country. It will protect the existing rights of teachers and will bring new social and employee personal rights at the same time," President Erdoğan said.
Erdoğan noted that Turkey has a deep state tradition which has 2200 yearlong history and it inherited a 1400 years old civilization. Stating that they had designed policies for people with disability in the light of this past for the last 19 years, Erdoğan stated, "We have reinterpreted our deep-rooted state philosophy by blending it with the principles of social state. We have established the largest social security system in the world in Turkey. We have collected 84 million people of this country starting from the most disadvantaged parts of the society under the umbrella of our state. We have achieved the reinforcement of social justice ideals by adopting right based policies. Law on Disabled People dated 2005 solved different problems of disabled persons varying from education services to care services and from employment to discrimination."
New generation employment model for disabled persons
President Erdoğan said that the Ministry has been working on a regulation that will allow disabled students to continue their uninterrupted education in vocational education institutes like they did in secondary and higher education institutes.   Stressing that new methods were developed in order to include disabled persons to lifelong learning processes, Erdoğan went on to say that: "We are aiming at providing disabled persons the opportunity to be employed in their dream jobs with new generation employment models. We also give special support to entrepreneurship attempts of disabled persons. We provide income support and special tax regulations for them in order to help them to establish a sustainable business program and take their economic status under guarantee."
"We are using all of our means in an effort to give the best education to disabled children in line with their skills and abilities"
Meanwhile, Minister of National Education Mahmut Özer started his speech by expressing his condolences to former Minister of National Education Güldal Akşit who recently died.
Noting that teaching has always been considered as one of the most respected professions in old civilizations, Özer pointed out that countries who respect teachers always rise.
Özer stated that they believed that the new Teachers' Profession Law will make an important contribution to the teaching profession and thanked President Recep Tayyip Erdoğan for his support to the design of the law.
He said that the education community appreciated the improvements foreseen in the social and financial rights of teachers and stressed that people with disabilities were always prioritized in the education, health, employment and social life regulations under the leadership of President Recep Tayyip Erdoğan.
Stressing that increasing the quality of life of disabled persons and maintaining their integration to social life is also among the prior concerns of the Ministry of National Education, Özer went on to say that: "Another prior issue of our Ministry is to provide equal opportunity in education. In this light, this equal opportunity is not only about the employment of disabled teachers but also for giving equal opportunity to disabled students."
Minister Yanık emphasized "accessibility" during her speech
Minister of Family and Social Services Derya Yanık stressed that the biggest problem of people with disabilities in integrating into social life is accessibility.
"Accessibility was the problem in the past and it is still present today for the mobility of disabled persons. Due to this reason, we have declared accessibility as the most important topic of the agenda," said Yanık.
Notes from the ceremony
Following the speeches, President Erdoğan pushed the button in order to cast the appointment of disabled teachers.
Ministers Özer and Yanık gave a painting as a present to the President during the ceremony which was also participated by Parliament Speaker Mustafa Şentop.
Eyüpsultan Şehit Murat Karakuş Secondary School Principal visually disabled Murat Yılmaz made a speech on behalf of disabled teachers during the ceremony.