Minister Avcı presents EBA Frame Photography Contest awards
Minister of National Education Nabi Avcı stated, "We assume that we do not have time to stop and see beautiful things and understand fine details amidst the hurry of daily life. These people who have participated in this contest prove that we are wrong."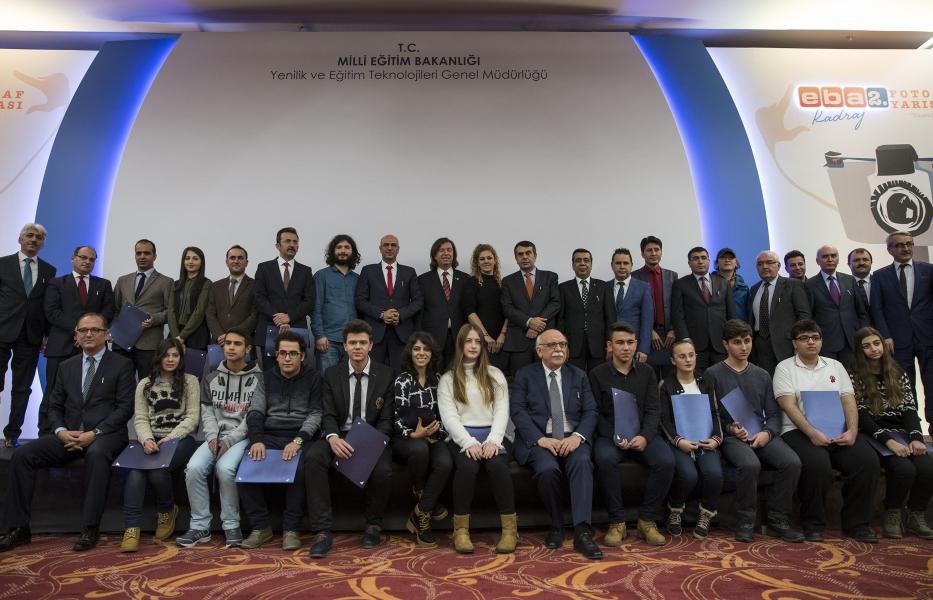 Minister of National Education Nabi Avcı attended the award presentation ceremony of the 2nd EBA Frame Photography Contest entitled, "The city that I live in" organized by the Ministry of Education General Directorate of Innovations and Education Technologies.
Speaking at the ceremony, Minister Avcı stated that Brazilian thinker Vilem Flusser's "Towards a Philosophy of Photography" book which is translated into Turkish by İhsan Derman will be uploaded in the Education Information Network (EIN) adding that anyone interested in photography should read this book.
Noting that İhsan Derman is a friend of his from the Anadolu University, Minister Avcı said, "Actually, we must buy the copyrights of books in order to upload books in the EIN portal but İhsan Derman is my friend that will not turn me down. We neglected the copyright this time."
Noting that he had recited poet Gülten Akın's poem entitled, "Saturday Loneliness" during his speech at the General Assembly of UNESCO in Paris, Minister Avcı repeated late poet Akın's lines, "It is a pity that nobody has the time to stop and tell the fine details."
"We assume that we do not have time to stop and see beautiful things and understand fine details amidst the hurry of daily life. These people who have participated in this contest prove that we are wrong and they have the time to see and show these fine details," Minister Avcı said.


Importance of city tours
Minister Avcı reminded the interview of Takiyettin Mengüşoğlu who is among the founders of philosophical anthropology in Turkey with philosopher Arslan Kaynardağ when Kaynardağ mentioned the city tours he attended during weekends while studying in a German university. Avcı quoted Kaynardağ as saying, "I have seen Sivas after I returned from Germany. I realize that the city was so beautiful and deep and it was playing host to a great cultural inheritance when I had a chance to see Sivas through the perspective I gained from the city tours that I had attended in Germany."
Stating that choosing this year's theme as cities that people live in was the right decision, Minister Avcı said that he was happy to see that city awareness is spreading among teachers and students.
Meanwhile, Director General of Innovations and Education Technologies Dinçer Ateş emphasized the importance of photography art having documentary nature and urging creativity and thinking in the education during his speech at the ceremony. He also noted that 5300 people have applied to participate in this year's contest.
Following the speeches, Minister Avcı presented the awards.
Haberin Fotoğrafları: