FATİH Project Education Technologies Summit
Minister of National Education Nabi Avcı participated in the opening of Education Technologies Summit held within the framework of the FATİH Project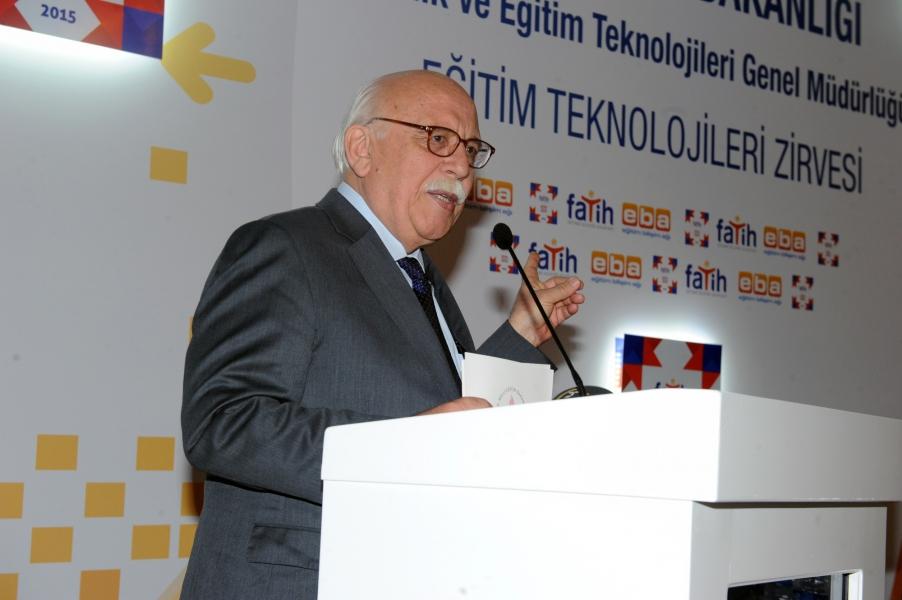 Minister Avcı said during his speech at the Education Technologies Summit that education has become a more complicated and more difficult mission in all countries of the World.
Noting that current education model based on desk sitting order is the product of the mentality shaped in the 19th century, Minister Avcı said that the education model established in order to fulfill the human resource requirement for the Industrial Revolution and to raise staff for factories is not adequate for today's world.
"We need formatting in education"
Mentioning the characteristics of education based on teacher-student education, Minister Avcı went on to say:
"It seems impossible for us to abandon this model based on ontological relations. In this light, we must maintain traditional accumulation of knowledge and methods of education so we must update, revise or in more fashionable term format it. Moreover, it is not possible to update it for one time and continue with it for a long time. We must employ dynamism, almost automatization for a constant update and revision by maintain the essence of the education processes and education environments".
"Schools lost their characteristics of being the centers of knowledge and information"
Minister Avcı stated that humanity went through a giant transformation at the end of the 20th century, their working habits and communication skills developed dramatically and socialization and requirements of living in a society changed immensely. Minister Avcı said that relationships established within the framework of cities, neighborhoods and schools shifted to the virtual world based on digital data.
As a natural result of this transformation, number of information centers other than schools increased rapidly and schools lost their characteristics of being the centers of knowledge and information, said Minister Avcı and added:
"Our students started to use these sources intensively and their demands and expectations from schools changed, accordingly. This rapid transformation in the education technologies, knowledge and information sources forced us to redesign our education institutions. Due to this reason, we are providing access to new sources in our schools which we equipped with new education technologies. Extraordinary variation in the education materials, realities of our time as well as recent developments urge us to redesign our education system from head to toe. As the Ministry of National Education, we are aware of the necessity of revising the education processes. FATİH is the name of the great education thrust we had initiated."
Minister Avcı stated that Turkey has reached an important level in terms of education technologies with the FATİH Project and the Education Information Network (EIN) and added, "We are confidently saying this in term of quality and quantity of these projects. While FATİH project allows access to the recent developments in the education technologies in our schools, EIN offers a well-designed environment for teachers and students according to the requirements of today's conditions. Our efforts to reflect innovations in technology to education system are not only limited with providing equipment or distributing tablets but also includes important and serious studies concerning combining curriculum with the new education architecture."
Noting that the Ministry has been asking universities, nongovernmental organizations and sector representatives to share their knowledge and experiences within this framework, Minister Avcı stated that the Education Technologies Summit is the product of this joint work.
Noting that there are many parameters such as detailed study on standards and strategies which are needed for the adaptation of education, Minister Avcı said, "I hope that presentations and discussions that will take place here today will show us a path and make valuable contribution."
Following the speech, Minister Avcı presented plaque to Google Education Director Bram Bout and Bout gave a pen to Minister Avcı as a present.
"FATİH provides employment in the information sector"
Meanwhile, Ministry of National Education's Innovations and Education Technologies General Director Dinçer Ateş stated that the FATİH project is beyond a project plan and has turned into a development thrust in technology and education movement.
Being one of the biggest education technology projects of the World, the FATİH program allowed furnishing all classrooms with interactive boards which is a patent of the Ministry of National Education, distribution of tablet computer sets produced in Turkey to 9th grade students and their teachers and usage of multifunctional network printers at schools.
"Today we have access to this hardware, software, infrastructure and system which was hard to even dream three years ago," he said.
General Director Ateş stressed that the FATİH project has promoted local information sector and provided employment as well as catching the attention of global information sector regarding Turkey. He said that Turkey will become a country that is capable to become an exporter of education software, content and hardware and he also added that the ministry aims at holding similar summits in the future.
New Technologies from A to Z in education sector
Most recent technologies developed by teachers, academicians and sector representatives from Turkey and different countries of the World will be displayed in the first Education Technology Summit.
New generation education technologies such as "Technological classrooms of the future," "game based learning,", "educational games", "mobile learning in education," "e-context", "3-D technologies", "young software developers", and "social media and blogs" will be on display.
Haberin Fotoğrafları: